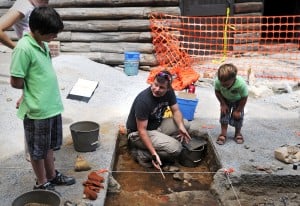 Part social science classroom, part tourist draw, archaeological digs at Fort William Henry could put new information in history books and cash in local coffers.

Monday through Friday throughout the summer, about 16 students of local archaeologist Dave Starbuck are moving back through history, one trowel-swipe at a time, as curious visitors look on. It marks the first time in 11 years crews have dug inside and around the French and Indian War-era fort.

Starbuck and his students and volunteers spent the last decade digging in Fort Edward.

"It seemed like the time was right," Starbuck said, referring to digging at the Lake George site. "It's not only about research; it's about making a difference."

That difference is something the newly formed French and Indian War Society takes seriously.

Museums throughout the world are undergoing a 21st century transformation to better meet the expectations of tourists who are inundated with advertising and connected to the web.

"The public has very new expectations," Starbuck said. "They don't want to just see rows of old junk on the shelves anymore."

But Fort William Henry, a relatively small, private museum, hasn't substantially changed its presentation of artifacts in nearly 50 years. Fort officials hope the archaeologists in the trenches can add an interactive component to patrons' experiences and yield some new artifacts for a planned exhibit modernization.

"We hope to tell a story, not just find things to put into a case," said Melody Viele, the project coordinator at Fort William Henry.

As crews dig within the reconstructed fort's walls and outside in its trash dumps, visitors take tours of the site. Tour guides explain what's been found, adding context to a collection of partially rotten beams, shards of pottery or rusting hand-forged nails. Crews inside the fort plan to shift to the east side of the courtyard this week and begin digging for the first time at the site of the British barracks that were burned to the ground by the French in August 1757.

"Some people think it's just part of the show," said dig guide and historical interpreter Dale Erhardt, referring to the tourists' reactions to the work.

The locally-based French and Indian War Society is hoping to use the area's connection with James Fenimore Cooper's "Last of the Mohicans," the most widely known fictional tale about the war that took place in and around Lake George, to expand the region's presence in the historical tourism market.

"The history gets lost in all of the commotion in Lake George," Starbuck said. "People remember the Civil War, World War II and, to a lesser extent, the Revolution, but the French and Indian war, and its importance, gets lost on people."

For more interesting topics related to archaeology, visit archaeology excavations.